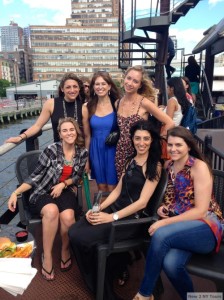 A NEW WAY TO DISCOVER NYC
SEE New York City like you have never seen it before from a personal perspective.  
New York City, a city of over 8 million people can be overwhelming for anyone even for a native NYer! With it's mixture of humanity, culture, art, music, fashion, theatre, business, unique and flavorful neighborhoods, how do you make any sense of this abundant cornucopia and diversity of life? New 2 Ny Tours is here to throw you a lifeline; to give you a little help and get acquainted with what may be perceived as a big scary city and enhance your NYC experience with "insider" walking tours.
New 2 NY Tours was developed in 2014 out of passion for exploring and learning the history of New York City. Our personal and more intimate walking tours are designed not only for people moving to the city, but for any tourist and native New Yorker alike interested in learning something NEW about New York and making NEW friends. Founder Pamela Fisher enjoys traveling and is always interested in seeing how the locals live in every country she visited. She decided it was time to share her passion with you and take you on a journey through the neighborhoods from a native NYer's perspective. With our tour guides, you will discover the local gems throughout NYC's most beautiful  neighborhoods. Together we will travel off the beaten path deep into the heart of the diverse neighborhoods in support of local mom and pop shops to taste their delicious foods, see the culture of the local community, and learn some history. You may be surprised how much you learn on your tour.
How are we different than any other typical NYC tour? What makes us so unique? We are not a history book, nor do we claim to be a world class historian. Instead, we connect to our guests on a HUMAN basis- giving them a more intimate experience of New York learning some of the city's hidden secret from a different perspective. We get to know our guests on a more personal level and learn about their culture and listen to their stories. Here at New 2 NY Tours, we want you to have a comfortable, more personalized experience of the city and enjoy "Living La Vida Local."
Make NEW friends that will last a lifetime! All of the tours are lead by licensed New York City tour guides. Reserve your tickets today and you will discover why New York City really is the best city in the world!
Neighborhood Tours
Food & Specialty Tours